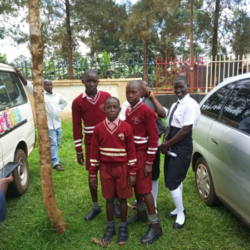 It is important to us to make sure the children in the RBW programs in Ethiopia and Uganda get the best education they can. We not only pay for their schooling, but also pay if they need extra help after school too.
Kingdom Message Ministry School made an announcement in 2021
Announcement about the closing of the school:
As the end of the operation of Kingdom Message Ministry School approaches, we would like to share with you a few updates on the overall situation. The school year 2020-2021 has come to a close; the students have passed their end-of-year exams and will be receiving their certificates, medals, and ribbons this week. They will take turns coming to the school building, receiving their awards and taking pictures. During the next two weeks the teachers will be preparing the student reports for you, the sponsors, so that you can see how your sponsored children have succeeded during this year.
The Philippines are still on a very strict lockdown. The teachers are allowed in the school premises only twice a week on what it called a skeleton schedule. Gatherings outside of residences are strictly prohibited, gatherings within residences with any person outside of the household are also not allowed. Curfews are still imposed.
We continue to pray for our students, their parents, faculty and staff, and the brethren in the Philippines. We trust one day they will again have the liberty to enjoy the full benefit of face-to-face classes.
When Kingdom Message Ministry School began it came into existence through the vision of a woman of Filipino origin, who had lived in Switzerland since 1988, but moved back to the Philippines in 2010. It was her burden to see the needs of the indigent children in the Philippines met.
You have to understand: in the Philippines, they don't have schools where people can go fully for free. In order for your children to be able to participate in any kind of education, including free-public schools, you have to be able to pay for the numerous projects related to your child's academics. Also, the number of children in the classrooms is so high that the final learning results are very poor. For these reasons, many people prefer to send their children to private schools where they can get full or at least partial sponsorship as well as better education.
The school originally started in June 2010 with forty students and three levels – Nursery and Kindergarten 1 & 2., but has expanded greatly during these several years of its operation. In 2012, 115 students have been taught from Nursery through Grade 2 and in June 2017 eight classes have been opened with 205 pupils. In just a few years, the whole operation has reached far beyond the efforts of one individual. The school is now supported from three continents – North America, Europe and Africa – and a major part of its operation is conducted from the United States. We have received a large vision to teach many more children and invest in them while they are young.
A writer and philosopher Victor Hugo once said, "He who opens a school closes a prison." Kingdom Message Ministry School has closed many doors of destruction that may have been inevitable for some of these children. The history of the school is progressive. We are looking into the future with hope and trust that many more lives of the young generation in the Philippines will be touched.
Our Vision, Mission and Goals
Our Vision
To be an exemplary educational institution raising a generation based on Godly Christian principles.
Our Mission
To expose children to Christian values while benefiting from high standards of education, equipping them with understanding and ability to meet the challenges of a rapidly changing world.
Our Goals
To develop children who would have fear of God, love for truth, respect for others, obedience to authority, and confidence in themselves. To encourage obedience, excellence, hard work, self-discipline, and love for learning in the child. To sharpen the child's intellect and analytical mind.
If you would like to be part of providing education and care to the children in the Philippines, please visit our Sponsor a Child page.