By Nancy Asbill
On this 99 degree day here in the States, we are reminded of our recent trip to the Philippines where temperatures can soar into the 90's with added humidity which lets you know it is "warm" there too. On this trip we spent time at the school working with the staff as well as teachers, continuing to improve the running of the school as well as sharing updates for better teaching skills and time management.
We would like to share some interviews we did with the Guidance Counselor, new teachers as well as some of the mothers of children that are in the school. For fun we thought you might also like a few facts about the area of the Philippines we were in.
We were in Butuan City located on Mindanao Island from June 23rd 2015 to July 7th 2015.
Butuan, officially the City of Butuan (Butuanon: Dakbayan hong Butuan) and often referred to as Butuan City, is a highly urbanized city in the Philippines. The city is the regional center of the Caraga Region. It is located at the northeastern part of the Agusan Valley, Mindanao, sprawling across the Agusan River. It is bounded to the north, west and south by Agusan del Norte, to the east by Agusan del Sur and to the northwest by Butuan Bay. According to the 2010 census, it has a population of 309,709 people.
Mindanao is the second largest island in the Philippines at 104,630 square kilometers, and is the eighth most populous island in the world. The island of Mindanao is larger than 125 countries worldwide, including the Netherlands, Austria, Portugal, Czech Republic, Hungary, and Ireland. The island is mountainous, and is home to Mount Apo, the highest mountain in the country. Mindanao is surrounded by 4 seas: the Sulu Sea to the west, the Philippine Sea to the east, the Celebes Sea to the south, and the Mindanao Sea to the north.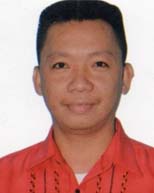 Having said that let us continue with our introductions. We would like you to meet the Guidance Counselor at the school; his name is Mr. Allan Micarandayo. He has been with the school since its inception in 2010. At first he volunteered his services looking to help where he could; it was 2012 that he accepted the paid position of a counselor.
Mr. Allan works closely with the principal and administrator for daily updates on the children. Part of Mr. Allan's responsibilities is visiting each child's home to talk with parents and guardians and to encourage them concerning the education of their child. He also finds out if there are needs in the family that the school might be able to help with such as praying with the family and in some instances helping with food. Mr. Allan will check in the mornings at school to make sure the children have had breakfast and arrange for something for them to eat if they have not eaten. If a child misses school, Mr. Allan will find out the reason.
Mr. Allan's training was as a radio announcer, but having a family himself, he enjoys working with the children and parents. Mr. Allan says he very much enjoys being at the school and finds opportunities each day to help those in need. We thank you, Mr. Allan, for being diligent in your work at the school to help the students and parents alike see the need for a good education as well as to want to know Jesus.
At KMMS some exciting things have been happening as more space for classrooms have been added as well as a very nice stage to be used for special events at the school.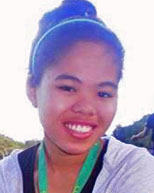 The kindergarten class has been relocated to the new wing so let us walk out of the counselor's office and go through the court yard to the new wing. This is where we will meet Miss Melanie Apas.
Miss Melanie came to be with the KMMS family of teachers as two of the current teachers are on subsequent maternity leave. To begin with, Miss Melanie started by substitute teaching for the kindergarten teacher who had her healthy baby boy first.
Miss Melanie, a vibrant 22 year old, comes to the school highly recommended having completed 4 years of elementary education at Caraga State University and her internship teaching kindergarten and third grade.
One thing you can immediately see is her enthusiasm for teaching. Having 16 energetic kindergarteners in the morning class and 15 in the afternoon, she makes special effort to keep these young minds focused on the subjects at hand. She is working on reading and learning their alphabets as well as numbers and math. Since Miss Melanie loves to sing, she will use this as a tool as well as drawing and other teaching methods.
Miss Melanie says she loves teaching and is especially happy to be at KMMS. She is looking forward to working with the 4th graders when Mrs. Rio is on maternity leave to have a baby girl.
We welcome Miss Melanie Apas to the KMMS staff as an addition to a very superb teaching staff.
Let us go back through the courtyard to the original wing and walk upstairs as we meet our new 5th grade teacher.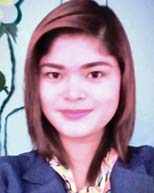 Miss Marilyn Cagadas at 21 years old having obtained her BA at Butuan College is excited about her opportunity to be with the KMM School. Miss Marilyn worked for her internship as a volunteer teaching basic computer operating.
The fifth graders are very fortunate to have such a bubbly teacher as she teaches them English, history, math, art and Filipino subjects. With 20 students she makes sure each one keeps attentive so as to learn what they need to learn each day.
Miss Marilyn has a grandmother that also taught subjects such as sewing, food management and cosmetology, which in turn she did with her granddaughter Miss Marilyn. So for Miss Marilyn this was an inspiration as she later pursued teaching.
Miss Marilyn especially likes English, but also enjoys to cook so maybe one day she would also like to be a chef.
This is Miss Marilyn's first year of teaching, but with her enthusiasm for learning, the fifth graders are sure to learn much this year. She said, "Thank God I can be here at KMMS, I feel such a belonging."
We welcome Miss Marilyn to the family of KMMS and say God Bless You.
Let us now go out to the courtyard as some of the mothers are waiting for their children to finish their class for the day. Mrs. Cherry the school administrator has asked three mothers if they would like to share their thoughts about the school. Fortunately for us, they all spoke rather good English.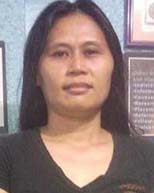 First let us meet Riza Gingo. Her daughter, April Joyce Gingo, is in first grade.
Mrs. Riza found out about the school from a friend and the family decided that with the better values and quality curriculum at KMMS they would take April out of the government school and enroll her with KMMS.
Mrs. Riza says her daughter has a lot of energy so staying focused is important.
April really likes school and especially enjoys memorizing Bible verses.
Keep up the good work April!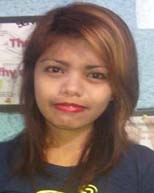 Next we will meet Florie Jane Perigino. Her four year old son is in Kindergarten. Her son's name is Jervy Avergonzado.
Miss Florie is quite impressed that even though her son has only been with the school a short time, he can read his ABCs and is learning to write.
Miss Florie and her son live in Sumilihon, which is only about 5 minutes away, so when a friend told her about KMMS, she was so happy her son could be a part of the school.
Presently Miss Florie and her son are staying with her mom as she is looking for work.
Miss Florie is thankful her son can get a quality education at KMMS and all that KMMS pays for Jervy to be there.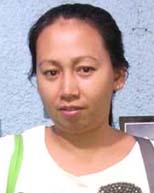 The last mother we will meet today is Chona Serdoncillo. Her son Jerald is five years old and is in Kindergarten. One continued thought we heard from the mothers is they really like the Christian values at the school. Jerald, like his other classmates, is learning to read and write. He really likes playing ball and playing with cars too.
Miss Chona appreciates also the fact that her son can be at the KMM School with all his school fees paid for. Being a single mother with two children, she is thankful for the help.
As many of you might notice, KMMS has gained a very good reputation in the Butuan City. For those that offer support for a child, you can tell the money is being well spent to the glory of God. Thank You all that pray and all that sponsor a child. May God Bless You. Each one of these precious children is special in God's eyes as all children are. What a blessing it is to be a part of a work in progress, one child's life after another.