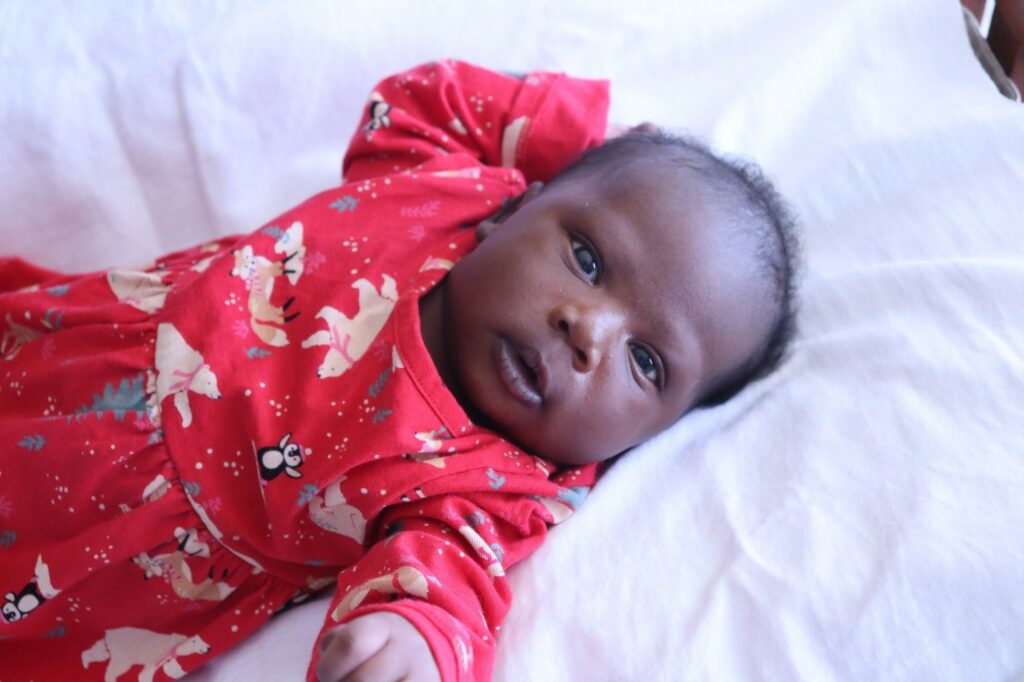 BROTHER GODFREY AND SISTER CONCY'S TESTIMONY OF THE BIRTH OF JOHANNA
Hello to All and greetings from Kampala, Uganda.
Some of you might remember, two years ago on October 29th, 2020, we announced Timotheus has arrived!!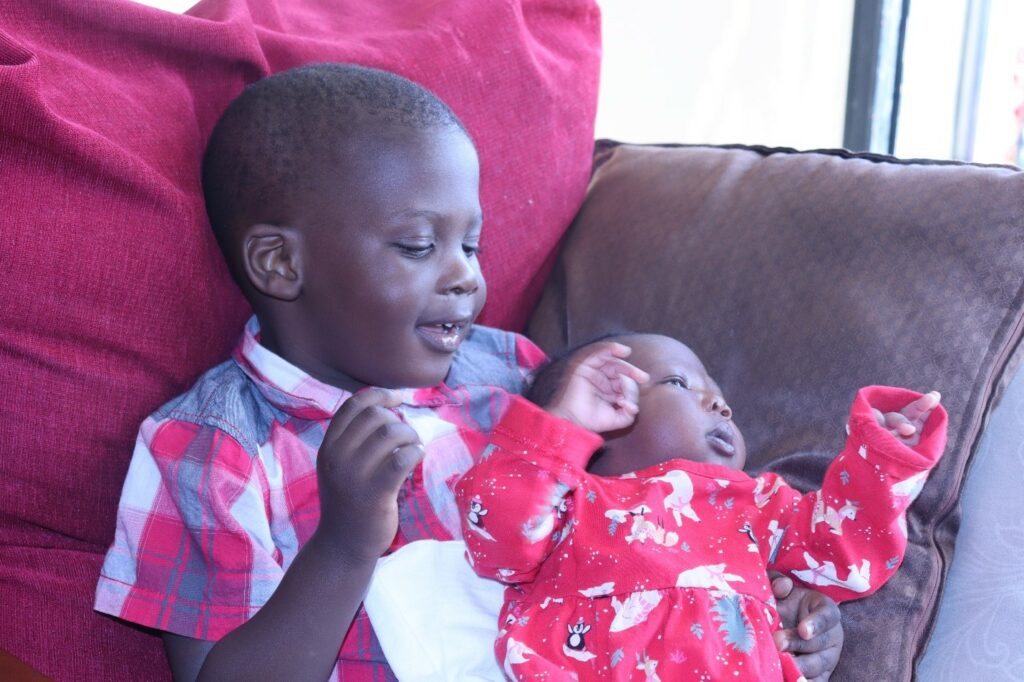 We are here now to announce that on November 18th, 2022, Johanna has arrived!! Here is a marvelous testimony leading up to and during her birth, of God's mighty hand of power and authority.
Testimony given by Sister Concy; During my pregnancy with Johanna, God was with us. We had a big challenge, choosing which hospital to go to. We visited over four good, but different hospitals with their gynecologist, but we never felt peace with them because some were so discouraging most of them were making reference to Timotheus's birth saying I might not be able to deliver Johanna normally because I didn't have that final push with Timotheus and he was helped by using vacuum exact during birth and, secondly Johanna might be bigger than Timotheus so I won't be able to push her and so meaning C selection, but we rejected it and told them we are believing and trusting God for a normal delivery. We also wanted a hospital which was not far from home because we were also considering traffic Jam, (which here in Kampala can be hours of waiting in traffic). If we were to go back to the same hospital where I gave birth to Timotheus plus the trauma of how the nurses treated me during that time, I ruled that that hospital can't be considered. The last hospital we hoped for when we visited it the midwife was very honest, she told us she won't enroll us in their hospital because they don't have provision for any emergency cases so I should go to a bigger hospital. So, with that we came back to point zero on the hospital. Godfrey asked me to believe God and go back to Mengo hospital and trust that when the labor pains start God will clear the way and we won't be in a traffic jam and Godfrey also spoke with the Doctor who helped us with Timotheus at the last minute, he was very good, we found out he is a believer, and he was always with us when we needed his help. Through all this I really learned to fear God more, I remember Aunt Margie saying I was not going to finish last week (the week of November 14th) before the baby is born and Sister Donna said she was praying that I would begin labor pains on Friday after Aaron Okech's examination for Catering which was on a Thursday so that we could eat Aaron's food. I also told Sister Donna that if I begin labor on Friday, I will be disorganizing the fellowship meeting we have on Friday evening. Without knowing that I was going into labor that Friday morning even that very Thursday evening when we got home from Aaron's exam, I asked Godfrey what was going to happen if I go into labor on Friday because his sister had come from the village and was sick and Godfrey was to take them to the hospital that Friday, he told me God will make a way and God did it. Early Friday morning I woke up and saw blood and I was a bit worried and called the Doctor and he told us by 8 AM we should be in the hospital. I wanted to call Grandma Nancy and I told her of my current situation and she told me girl that's labor and she prayed with me not to worry and have a quick delivery, I also called Aunt Margie and they prayed with me and I remember we left home towards 7am. We first had to drop Godfrey's sister and mother to a different hospital and then we continued to Mengo Hospital, time was not on our side because our appointment was at 8am but we reached the hospital at 8:30 am, the doctor was heading to the theater( surgery) but we thank God to get such an angel (doctor) and he checked me and said he was coming back to deliver the baby after being in surgery, but by the time he came back the baby was born. When the pain was getting stronger, I did say a prayer that God shouldn't let this labor last long and I remember that Uncle Ronald prayed that I should give birth like the Hebrew women. The nurses came to take me to the labor suit so that one of the doctor's could check me and when I saw her I did remember she was the doctor who disappeared when I was giving birth to Timotheus so she checked me and said am I ready to push the baby but they didn't allow Godfrey in the labor suit I shouted the first time and they asked me not to do it so they asked me if I wanted Godfrey to be in the labor room and I said yes so they called Godfrey in, and on the next contraction they asked me if I could push and I did and the baby came out all together with the water. God was so good to us all, for what we and the brethren prayed for, came to pass, thus making me fear(really respect in awe) God more.
God gave us a song in that hour in the hospital.
G
Through God We Have Power
A
To move mountains
D G A
Through God we can cast out principalities
G A D Bm
If we give Him our lives nothing is impossible
G A D
So let us rise up and take the victory
D7 G D A D
Let Us Rise Up and smite the enemy
D7 G D A D
Let us rise up and set the captives free
D7 G D A Bm
Let us rise up and march in God's army
G D A D
Rise up for we have the victory
D G A
The Lord is my strength and my power
D G A
Through Him I will overcome the enemy
G A D Bm
As I surrender to Him He will do His work in me
G A D
And I will rise up and take the victory
We want to thank everyone who stood with us spiritually, financially and physically and emotionally may God bless your labor of Love.
Brother Godfrey & Sister Concy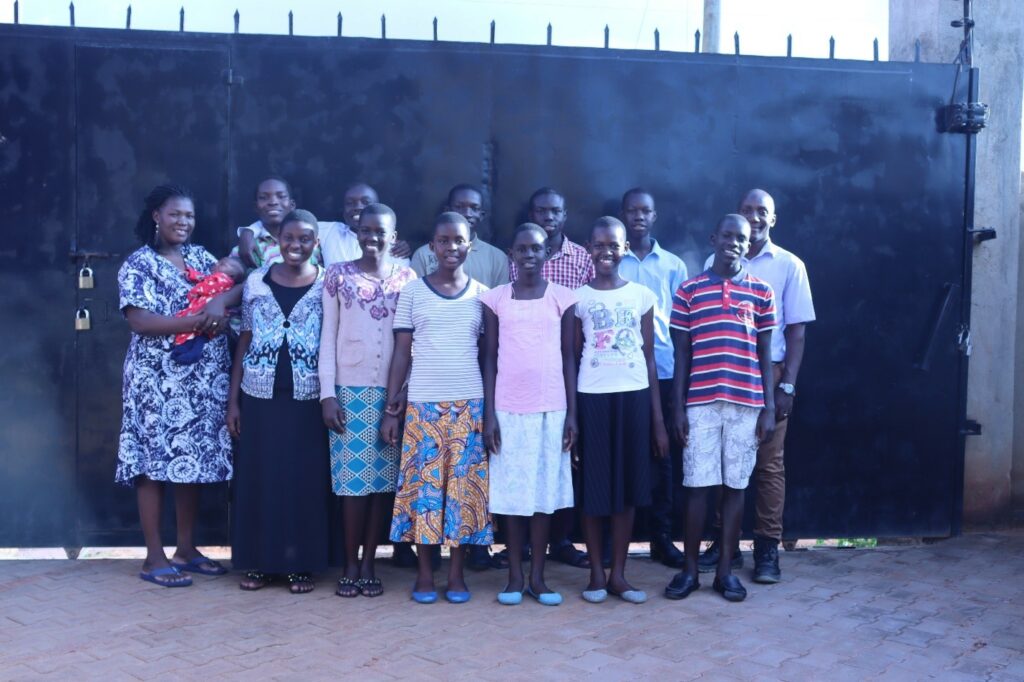 Praise the Lord. we want to thank God for this year and here it is coming to an end. The children were able to complete their three terms in a year that was first term, Second term and Third Term. We thank God for His mercies for the provisions, that we have gotten school fees and every other requirement that the children needed to go through all the three terms. We had three candidates this year, Reagan who sat for his primary leaving examination (primary 7), Daphine and Melvin sat for senior four (Uganda national examination broad) and waiting for their results next year and Aaron Okech sat for his vocational examination in Catering. Next year, Aaron will also be sitting for his senior four examinations (national examination) we thank God that these three have been able to reach that level and accomplish it. The other children sat for their promotional end of year examinations, some performed very good, and others performed fairly. A few need to improve as they performed poorly. But we are trusting God that they will be able to do much better next year. A decision has been made to take the children out of boarding school and just do day school so they will be at the mission house in the evenings. We realized that the children living at the boarding house was affecting them academically and spiritually.
Since the children are home now on break, we have come up with a plan that before going to bed each child quotes 20-30 memorized scriptures, which has been helping them.
We are studying the book of Daniel now also which is challenging the children and keeping them busy in the Word of God and also doing their schoolwork (holiday package) which the school had given to them. It helps to keep their minds ready with their school and as well as things that they have to do at home.
We appreciate all our sponsors that have been able to support us throughout this year, God Bless You Richly! Reaching Beyond Words Uganda