Hello from Sunny Ethiopia,
Greetings to All of you, as always, we like to share with you the ongoing work of Reaching Beyond Words NGO in Ethiopia. It is hard to believe April 2019 has come and gone already.
We continue to have meetings with our Children and their families once a month, the meetings help us to discusses different issues of the children as well as the families.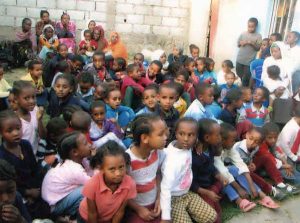 This past month we were very busy with so many things, we purchased and distributed nutritional food support for all our children and we also had our feeding program, which three years ago, Brother Elias C Bancale and his family helped us financially and have continued ever since, God Bless them. We also distributed a special gift for all our children and families.
The ongoing work is continuing and we are grateful for all the help. Our Social worker is visiting the Children at their homes, with these visits we discuss with them about their Health, Education and personal hygiene.
Our tutorial teaching is continuing and we are supporting some of our children by giving special focus to improve their Academic Status.
We know that, this work is continued by your sacrificial and loving contributions, we greatly Acknowledge and thank all of you for helping this great work.
May God bless you all,
Brother Jemal and the Ethiopia Reaching Beyond Words Staff