Hello to All Our Friends from All Over the World,
Greetings to you all again from here at the Ethiopia Reaching Beyond Words NGO! We always rejoice by the work of God. We have so much to share with you today it includes both activities in June and July.
To begin with we would like to share a testimony of one of the ladies in the special classes for the widows and single mothers, her name is Tewabech Mehamed, she is 37 years old and a mother of four children.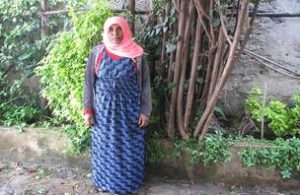 She and her children have lived in very poor conditions. In May of 2015 she and her son, Mehamed Seide who is seven years old and in grade 1 now, joined the Ethiopia NGO. Tewabech has successfully completed her 3-month skill training course provided by the program. Part of the training program the ladies are given 3000 Birr as seed money to begin a new business, she received that in March of 2018. Since receiving the money Tewabech has begun a successful business of selling fruits. Before starting her business, it was a struggle financially to feed herself and her children and have money for rent. Now as her business flourishes she can feed her family, pay the rent and save some money for her future career, within a short time she has saved 1800 Birr to go towards paying the seed money back as well. She has also been able to improve the living conditions of herself and her family. Tewabech says" I am so happy for the training; people need what I am selling! Thank You Reaching Beyond Words."
Each month we have our educational meetings with all the beneficiaries and their families. In June during the meeting we focused on the children working hard in school and staying focused on their education. In July for our meeting we had some guests, Brother Burt and Sister Nancy. This meeting was a motivation meeting.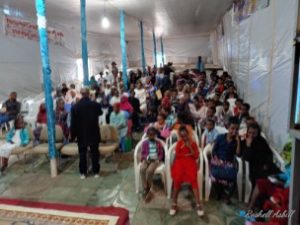 June was the end of the school year so of course the emphasis was on studying hard for their second semester final exams.
We purchased back packs pens and pencils for each student.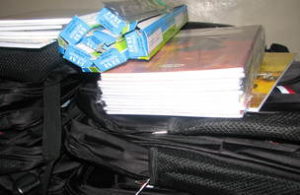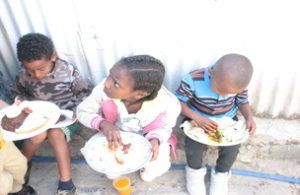 As always the feeding program is enjoyed by all.
Since we had the Asbill's visiting for a week in July we had meetings almost every day. We had the group meeting and meetings with just the widows, single mothers and parents. The focus for two days was on proper ways of parenting and lovingly teaching their children. It was very excellent and interactive with questions and answers.  Some of the mothers have never gone to school so they do not know how to read, so one of the thoughts was as they encourage their child to learn why not have that child teach the mother to read with them.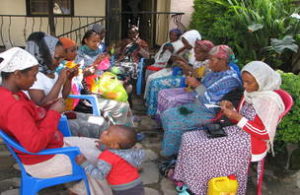 In the ladies training program two days were spent on learning to make earrings with Sister Nancy. The ladies are very quick learners and their crocheting and knitting is progressing nicely.
Each beneficiary received nutritional foods for them and their families and each child in the program received their school uniforms and new clothes.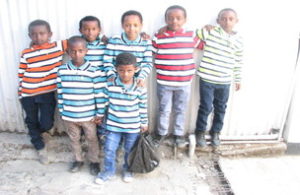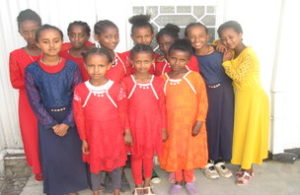 Lives are being changed for the better it is truly wonderful to see.
Thank You Brother Burt and Sister Nancy for visiting with us. God Bless You.
Thank You all for your sacrificial prayers and financial support, it is so appreciated.
God Bless You,
Brother Jemal and the Ethiopia Reaching Beyond Words Staff