Hello to All,
Greetings again to you all. By the grace and mercy of God we are continuing our work, so we would like to share with you the report of February 2018 from the Ethiopian Reaching Beyond Words NGO.
One of the challenges we faced in February was finding a suitable office space. Fortunately just in time we found a place to rent. We had to quickly pack everything and move as our former lease was up and the owner wanted his place back, but all worked out well and we have settled into our new compound.
Even with the move our everyday activities keep going. We purchased and distributed 25 kg teff flour (a very important staple for us) for all our 75 children and their families, plus they also received laundry and bath soap. Each of the children got 12 bars of soap.
Sister Lemlem has started training 15 new widows and single mothers. It's wonderful to see these women learn a trade that helps them better their lives.
One of the rewards of working with the NGO is watching the children learn and grow. I would like to introduce to you two of our beneficiaries.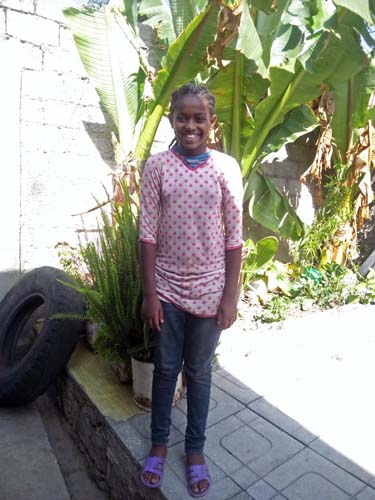 Yedidiya
Yedidiya is one of our supported children. She is the daughter of our compound Guard. She is 12 years old and in Grade 6. She says, "I am very happy by the RBW support. I have gotten a lot of support like school materials and nutritional food, school fees paid, new shoes and clothes and medical support. The tutorial training has helped me in school too." Yedidiya says she enjoys sports like physical exercise and playing ball. She really likes meat and rice very much. Lastly, she says thank you so much for all your support, God bless you.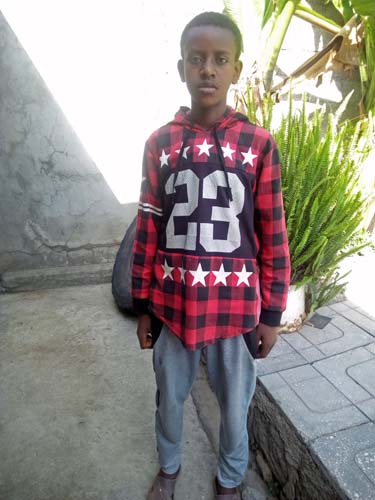 Abraham
Abraham, age 14, is an eighth-grade student and the only child. His father passed away two years ago, leaving his Mother Fasika a widow to support Abraham and herself. She sells the very popular injera at a stand on the street and washes clothes for different customers. Injera is a white leavened Ethiopian bread made from teff flour, similar to a crêpe; it usually takes two days to make. Fasika, Abraham's mother, has also gone through the training at Reaching Beyond Words for widows and single mothers. Abraham is very glad for the new clothes, shoes, food and educational support he receives through the NGO. He likes football and his favorite food is roasted meat. Thank you so much for the support.
In all our work we have seen God's great guidance, wisdom, and help so we praise His great name.
Your sacrificial contributions are helping us a lot!!
God bless you!!
Brother Jemal and the Ethiopian Reaching Beyond Words NGO's Staff