Hello to Our Dear Friends,
We would like to share a short video with you today and introduce you to Rediet Milek the social worker in the Ethiopia Reaching Beyond Words NGO
Did you know, Ethiopia is Africa's oldest independent country (according to world economic forum) With a population of over 100 million,(just a few years ago it was 90 million) and an annual economic growth rate of 10% over the past 15 years, the country faces challenges.  With so many young people under the age of 30 and the average yearly income under poverty level, we at Reaching Beyond Words are blessed to be able to see young people in the program receiving a good education and  moral support.
The Ethiopian government is encouraging working with different entities to create jobs, which is great to see. As we see the widows and single mothers learning a trade in the Reaching Beyond Words program its so rewarding to watch the ladies begin to climb out of poverty into meaningful livelihoods that is providing food and clothing and housing for themselves and their children. We have a saying, We don't just give them fish, we teach them fishing!
It's working quite well to have the extra tutorial classes after school and on the weekends to continue to help the children in their school studies.
A few years ago one of our talented young people put together an informative video we thought (for those that have not seen it)  might like to view it.  https://reachingbeyondwords.org/ethiopia/
An interview with the Ethiopia NGO'S social worker
I am Rediet Milek.  I was born in Addis Ababa, I live in Addis Ababa around the Wosen area. I have two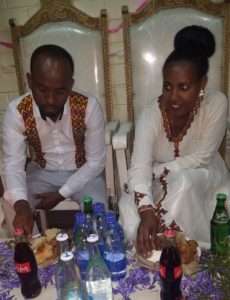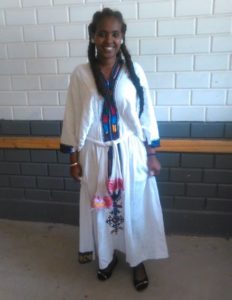 Brothers & three sisters.  My Mother's name is Senayite Mengistu. My Father died about 22 years ago.
I have recently been married and am quite happy. I am a born-again Christian. I enjoy watching spiritual movies, I like to do different handcrafts and listening to spiritual music. My habitual action is to read the bible.  My favorite food is Ethiopian cultural food like doro wote kitfo, ( Wat, we̠t', wot (Amharic: ወጥ, IPA: [wət']) or tsebhi (Tigrinya: ጸብሒ, IPA: [s'ɐbħi]) is an Ethiopian and Eritrean stew or curry that may be prepared with chicken, beef, lamb, a variety of vegetables, spice mixtures such as berbere, and niter kibbeh, a seasoned clarified butter. Currently, I am working with Reaching Beyond Words charity organization as the social worker. I am happy I can work with RBW.
I have completed all the grades of school and also attended college. Redeit

Thank You for spending a little time with us today, we so appreciate you all. God bless the Reaching Beyond Words partners
Brother Jemal and the Ethiopian Reaching Beyond Words Staff