Hello to All,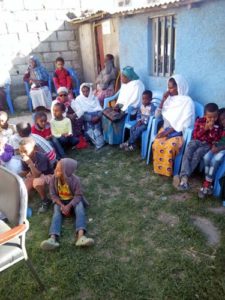 We are very glad and happy by the marvelous work we have with the Ethiopian Reaching Beyond Words NGO. You might remember us mentioning that we started our new year of 2017 (by the Ethiopian calendar it is 2009) and that we are working on our third year of the proposal agreement we signed to help our 75 children and 20 widows and single mothers. Next year we will sign another agreement with the social services here for another three year agreement.
One part of the support the NGO offers is distribution of nutritional food to the beneficiaries. We distributed 25 kilo of teff flour to each family. Each family is very happy to receive the teff flour as it is used to make injera, an unleavened bread which is a staple for most Ethiopians. When we passed out the teff flour, we had a get together with the children and their families and also gave them some gifts from us.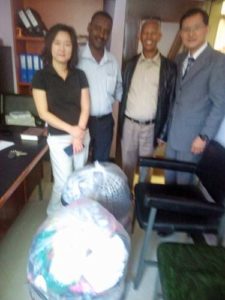 We would like to thank Elias Bancle and his wife, Bernadette, missionaries from the Philippines. They helped us with food for our get together with the beneficiaries and their families. We really appreciate all their help to the NGO. God bless them.
We have started the usual ongoing work with widows and single mother's training, meetings with the ladies and children, tutorial classes, home to home visits, plus personal counseling for those with family issues or children's needs.
I met one man at the Ethiopian Mines minister office and he donated some pencils, pens, and markers for our children. What a great help to us to minimize the cost of purchasing school materials in the coming month. Thank you, Bantenayehu Ayele.
New news is that we have signed a rental agreement to house the NGO in a new compound. So our calendar time of February 1st, 2009, we moved our offices to their new location.
The children, in all grade levels, will be taking their final exams the first of February for the first semester, so please pray for them.
We received Brother Burt and Brother Tomas on January 18th, 2017. Since they arrived we kept them very busy with the NGO's work, as they had to leave on January 26th. With only a week's time we wanted to make good use of their time.
We had a successful time together, especially January 23rd-24th as we had training for all our children and their families during this time.
Brother Burt and Brother Tomas taught about the proper way to raise children and how the children should learn as well. It was an excellent time of sharing as well as different ones asking questions and interacting together.
It was very nice to have one of our young boys, Abraham Tameru, define the three segments of the Tabernacle of Moses and the meaning of that with clear understanding.
May God bless you for your great efforts, support, and love of God with practical sacrificial lives for this work.
Brother Jemal and the Ethiopian Reaching Beyond Words NGO Staff