Hello to All,
Greetings again for you all, as always, we like sharing with you of our continuing work here in Ethiopia. In this report we would like to share the activities of the Ethiopian Reaching Beyond Words NGO in March 2018.
We purchased and distributed good hygiene materials to our young children, ages 12 years old and above. The items included hair oil, soap, a tooth brush and other necessary materials to keep their personal hygiene.
The widows are continuing their training with sister Lemlem. We have also gotten a marvelous opportunity for free training at Selam's children's village in their kitchen learning food preparation, in addition to garment construction and other short training classes. We can send four adults to this training from our sponsored children's families, two men and two ladies. Praise God for this privilege and may God bless this organization.
Our tutorial teaching is continuing with great progress in helping our children. Our monthly meetings with the families and children are continuing and going very well also. During our meeting day in March all the children and their families were present. We discussed the children's health, education and so on. It's also a good opportunity for us get updated information on the children and their families.
The feeding program with the Filipino brethren is continuing. We are now on the first quarter by the end of the month of March. The past three months' or first quarter we have accomplished our plan for the NGO.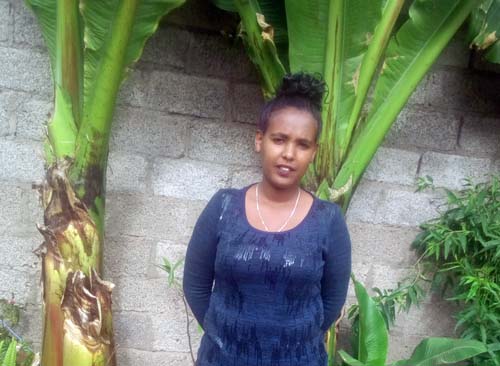 I would like to also share an interview I did with our social worker for the Ethiopian RBW NGO. Her Name is Rediet. She is a Christian sister; she does have a mother, but her father passed away. Rediet has two brothers and three sisters; she is the 2nd born among her brothers and sisters. She was born in Addis Ababa and has lived here her whole life. At the age of ten she went to Salem's children's village. There she received food, clothing and education. When she graduated from High School, she attended Salem's vocational technical college and received a diploma in computer technology including installation and maintenance. Before coming to work with us, she worked for a short time with Dorcas Aid, an international NGO. Rediet has now been with us for a year. She said, "I am very happy working for Reaching Beyond Words NGO. I am working with joy visiting the children's families. I wish all the best to RBW AND EXPAND THE WORK. Thank you so much because I have seen change in my life since I have been working for RBW."
Thank you so much for all your support of RBW. It's a great contribution you all have done. May God bless you.
Brother Jemal and the Ethiopian Reaching Beyond Words NGO staff