Hello to All,
Greetings to you all again from here at the Ethiopian Reaching Beyond Words NGO. We always rejoice by the work of God.
We would like to share with you the activities here in May 2019 at the NGO. One priority we have is to always communicate with the children and any family they might have, this is the purpose of us meeting with them especially once a month to discuss all current issues. This meeting was especially special because we were visited by the government operational area officers, they evaluated our work and gave us an Appreciation certificate for our Reaching Beyond Words NGO. Also, during the meeting they gave strong advice for the families to keep the rules of the NGO and their governmental rules. It is so important for the children and their families to follow the rules and guidelines for their well being and to help the NGO run smoothly. The government officers warned them if the families do not comply, they will act to terminate a child and to replace by the right poor child.
All our work is going well, we have received the Renewal for Reaching Beyond Words NGO's Certificate from the New Civil society Agency, and we praise God for the new change in the near future to work hard without interference.
This month we purchased and distributed Sanitation materials for all our children's families. We had our feeding program as usual and may God bless this Filipino missionary Bro.Elias Bancale's and his family.
Our tutorial class is continuing and we our especially focusing on our children needing help to improve their grades. We give special attention and support to encourage these children.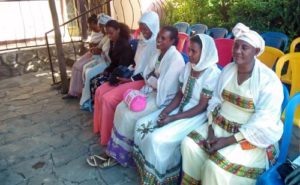 In this past month we started the new widows and single mothers training program we have more than 15 ladies and the exciting thing is the past widows and single mother's that have graduated from our previous programs are coming to help train this new class. We will train 20 women before 2019 is over.
We need your prayer and support because they need training materials and after they are finished, they will need the startup capital or seed money.
We always are so very thankful to you all, we know without your sacrificial loving contributions nothing would happen here. We would like to say may God bless you.
God bless you All!!!
Brother Jemal and the Ethiopian Reaching Beyond Words Staff