Our Dear Friends
Greetings to all of you from here at the Ethiopia Reaching Beyond Words NGO. We continue to keep quite busy with this great work of helping needy families, but it's a blessing to share with you all some of the high lights of this ongoing work. This report will contain our November and December 2019 reports and January 2020.
One thing we have found helpful is to have meetings with the children, their families as well as the adults in the program. The meetings are a way to give direction for their lives in learning ways of proper sanitation, how to deal with life with clear directions and to encourage the beneficiaries in overcoming some of the hardships they face. It's always a good time together.
We purchased and distributed sanitation support for all our children's families. Our 18 widows have graduated by this month and we thank God for all his provisions. Each widow and single mother in the classes received seed money from the NGO to start their small businesses, selling injerra, potatoes and onions, tomatoes. Some of the ladies have hand crafted coffee mats to sell and pillow coverings. Some of the ladies got a small shed for a workplace from the government. The ladies are excited to now have meaningful work.
Our tutorial classes are going well with the beneficiaries. We can see some of the students grades are improving with the extra help. We also have a special feeding day in the program once in a month as usual, as well as the food supplies we give each family for daily food.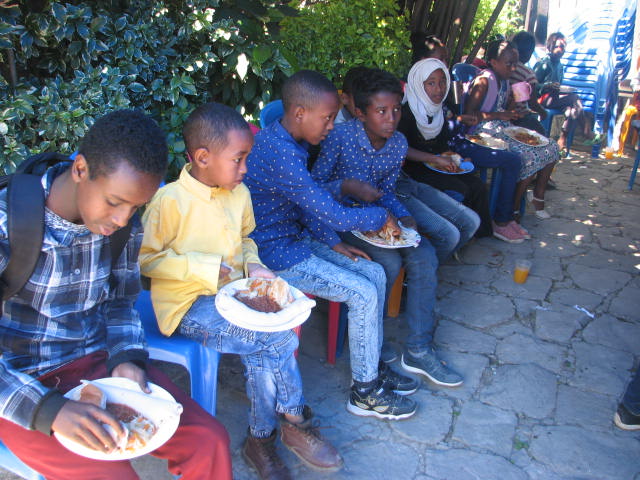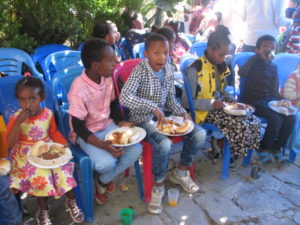 It's hard to believe we are at the end of the year.
A few weeks ago, we were contacted by a fellow Ethiopian woman, Sister Shewaye Yelew, that she wanted to help some of our ladies in the program. We are so grateful for her care and generosity as she has given enough money for us to buy a sewing machine and Injerra maker for two of the widows. We were able to purchase a Singer sewing machine and gave one to Aregash Bekele and for the other widow Ayale Berhane we purchased an Injerra Machine with other materials they needed. Injerra is a staple food all Ethiopians enjoy daily. They are very happy and say God Bless You!! Sister Shewaye says she is praying that she also can-do further help. God Bless her.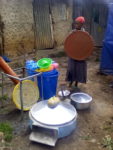 Edible oil was purchased for each family, which is used every day for cooking.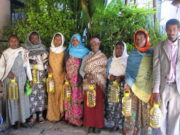 The social worker has visited each beneficiary and their families to check on how they are doing and encourage them.
Three widows Aragesh Bekele, Ayale Berhane and Nesanet Seboka are working hard and their income from working is showing improvement.
This work could not go on without the faithful support of those of you that pray and give financial support, thank you for your lovely sacrificial support.
God Bless You All,
Brother Jemal and the Reaching Beyond Words Staff