Kampala, Uganda 2019
Reaching Beyond Words Uganda (RBW-U) greets you all our dear donors and sponsors. We would love to share with you what has transpired from June thru August 2019 here in the Uganda Reaching Beyond Words program
Every month we have what we call our Center day, which is done for all the beneficiaries. This day is an opportunity for us to have all the beneficiaries together for a time of teaching from the Word of God as well as a time for the children to enjoy fellowship one with another. The children enjoy it so much many times they do want to leave. Depending on the children's school schedule we might just have a one-day seminar or if the children have some days off, we will extend the time for 2-5 days. It's really a great time for all and through these times the children feel like they are all one big family. Sister Concy cooks up some pretty good meals the children like very much. And as in any family the children help with clean up and other chores, which again gives them a sense of camaraderie.
Sister Concy is the social worker and "house mom" for the girls and Brother Godfrey is the overseer of the boys.
Brother Godfrey and Sister Concy do home visits every month to monitor how the children's home situations are, and if something is not right, they try to work with the beneficiary's guardian or if need be having the child put in a safe environment of a boarding school. For the children in boarding school they are also visited to make sure they are doing well in school. This is another reason Center day is so important because it gives more time to individually help each child where they need it most. Those working in the Reaching Beyond Words program Uganda have a heartfelt concern for each child and it is evident in their sacrificial service.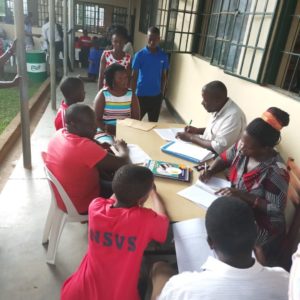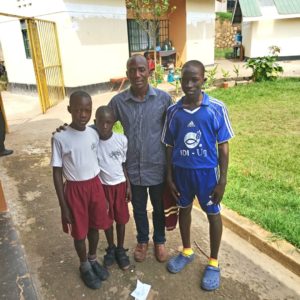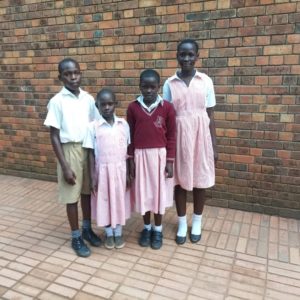 On one of the Center Day teachings we spoke about the importance of prayer. Here are some of the key notes we discussed.
Seven Reasons to Pray
During the month of July, we were blessed with Brother Burt and sister Nancy visiting us. Sister Nancy was very happy to see and get to know the beneficiaries, both sister Nancy and Brother Burt also visited some of the homes of the beneficiaries and schools. Brother Godfrey, Sister Concy and Sister Donna also participated in the activities and it was a very good experience. The parents of the beneficiaries were very happy knowing that someone out there cares and loves them. The parents never expected to see Br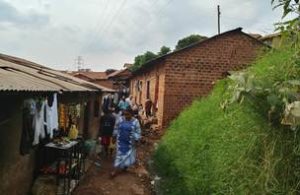 other Burt in the slums since the way to their homes is really not good, with narrow paths and rocks and some water on the path. The Asbill's did not mind though they were glad to be able to meet some of the parents.
During the month of August day school children also broke off for holidays and their performance was good. Children's whose Course results were very good is Aaron Onek, Aaron Okech, Aber Phiona,Ochan Regan and children who had good scores were Ojok Stepen,Samuel Muwanya, Omarach Dismas, Ruth Kacwingrowth, Mercy Aciro. Children whose score was fairly good, were Daphine and Abola Fiona.  Esther is among the children who had improved.
We also received donation of clothes, shoes and water bottles and skipping ropes for the children which was brought by Brother Burt and Sister Nancy. We distributed the clothes to the children, and they were very happy and grateful. RBW in Uganda with much love send their thanks to all the people who have provided for the children and may God bless your heart. As the saying goes (We give not because we have a lot but because we know how it feels not to have)
We would like to share a profile of one of our beneficiaries:  We thank all of you for your prayers and support. The Reaching Beyond Words Staff in Uganda