Hello to Our Faithful Readers,
Reaching Beyond Words NGO in Uganda is our newest NGO that is just three years old.
In Uganda, more than a third of the inhabitants live below the poverty level. Children are the primary victims of this deplorable economic situation. Their families cannot ensure their health or their well-being, particularly in remote regions of the country.
Some children are sent to live in towns and cities as it is thought that they will be better off living in urban areas. Instead, they often end up living on the streets.
Astonishing is that 50% of the population in Uganda is under the age of 14 years of age. With such a low age, it's the world's youngest country. The average age of Ugandan's is 50-60 years old.
Other rights are neglected because of poverty. Access to education, for example, is a privilege from which only the most fortunate children benefit.
The objective with the program in Uganda is to help the children. The ages of the children are between 6-18 years of age. The program is geared to help unfortunate children be able to attend school, but more than that, it is to find hope. The hope that comes from knowing Jesus as your savior. With the mentors in the Reaching Beyond Words-Uganda, they are committed to seeing the children succeed, positive results with the children are already seen. The mentors visit the children's schools and homes to help monitor the progress of the children.
We had a team that recently visited the program in Uganda and saw first hand how the program is working in marvelous ways. There are 12 children now in the program and the NGO staff is making sure the children receive one on one quality time with the staff as well as the other beneficiaries. It's so inspiring to hear of how these children are improving their living conditions as well as their overall well being. One eight year old boy was living with his brother, sister and mother in a one room shack about 5ft by 8ft.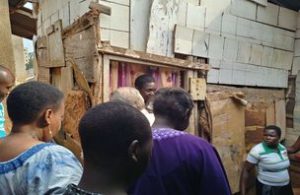 The mother would leave the children alone for a period of time and this little boy was quite malnourished, he would rummage through the garbage dump to try and find food. When this little boy and his brother were added to the program, steps were taken to help these boys. They are now in a boarding school receiving a quality education and wholesome meals everyday. This eight year boy had started school late so at first he could not read, but now he is reading and improving everyday.
It's so rewarding to see lives improved not only in the natural but in the things of God. The team brought some clothes for the beneficiaries, which was received with smiling faces.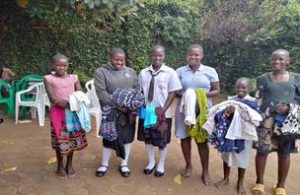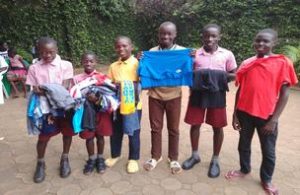 God Bless You,
The Reaching Beyond Words Staff