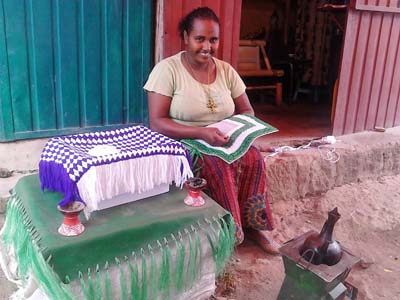 Hagere Temesgen is 35 years old and a mother of six year old Yonas, a boy in the NGO program. Hagere is married but her husband has a small paying job so living conditions have been rough at times.
Hagere and her husband with their son live in a one room mud walled room. The cost for rent for them is 400 Birr a month plus whatever water or power they use. Hagere entered the mother's training program last year. She is a quick learner and enjoyed the three months class. During that time she would prepare tea and coffee and put them in a thermos and walk the streets to sell what she could. At that time she made little money. Since she completed the class with the NGO and received 3,000 Birr seed money, she has built up a thriving business.
Hagere gets up and starts her day by preparing her breakfast sandwiches as well as "fifer", a favorite dish of injera mixed with a spicy red sauce. She also cuts up the vegetables for a soup she will sell in the afternoon. The coffee is prepared the night before. The cost for her to make the breakfast sandwiches is about 8 Birr and she sells each sandwich for 15 Birr.
Hagere has rented a little space on the sidewalk near where the university is. So every day, seven days a week, she sets up with her coffee and tea cups and various food items. She also has what looks like a hibachi grill to keep food warm or to cook her soup. Hagere usually works from 8am to 8pm every day. On a good day she makes 200 Birr which is extremely good for there. Even on not such a good day, she can make 100 Birr. Many that struggle to make a living make only 500 to 600 Birr a month, so 200 Birr for one day is quite good. Since December she has saved approximately 1300 Birr.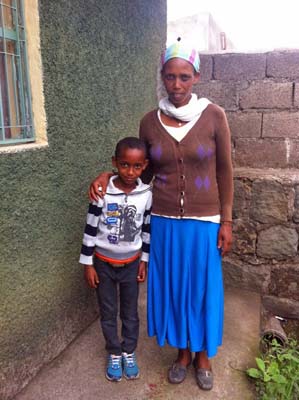 Meseret Goetay is a 29 year old widow of eight years. Eight years ago there was some conflict where they lived and her husband was killed. This left Meseret alone with a small baby son named Yeberetale. Yeberetale is eight years old and in the NGO program.
To feed her and her son Meseret washed clothes for people and went home to home cooking for people as a house maid. Her and her son live in a one room "house". She pays 550 Birr a month for rent. Last year she was able to be in the training program for mothers and widows through the ETH NGO program.
Since receiving her seed money, she is learning how to build a business. The NGO program will be giving her some counsel as to good business practices. For Meseret it is a new experience to have a business and manage her time and money productively. She gets up at 5:30am to go to the market to buy vegetables and fruit to sell. She then returns from the market and puts the produce in her house until she returns after lunch to sell her produce. By 7 to 7:30am she is working washing clothes and cooking so in the afternoon she is on the street selling her products until about 7 at night.
Meseret is a hard worker and is happy that she is getting a chance to improve both her and her son's life.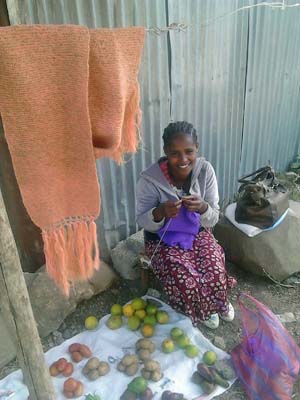 Hareg Shiferaw is 24 years old. She is a mother of one child, a five year old girl. Her daughter Hiwot is in the Ethiopian NGO program.
Living conditions for Hareg were difficult; she and her child lived in the poorest of poor family situations. She came to the program last year to be involved in the mothers' and widows' program. She enjoyed learning how to make scarfs as well as other crafts in the three-month training program provided by the ETH NGO. On October 28th, 2015 Hareg was given seed money of 3,000 Birr to start her small scale business. Since then, she has become successful at making fifer (an Ethiopian dish made with injera) as well as selling different vegetables and making different hand crafts for selling.
Hareg is now able to pay her house rent on time and provide variety of foods for her child to eat. She is able to save money in the bank (100 Birr every week) for her future career. Since October, Hareg has saved over 1400 Birr.