Back in December 2021, the Lord began to speak about a mission trip to Ethiopia and Uganda. A few brethren began to pray seeking God's will concerning this trip. With Covid and some other circumstances it had been a while since a team had been able to visit these works there. It turned out that God began to speak to others and a trip was planned. You will get a glimpse of the blessing this trip was through these testimonies. We thank God for these opportunities to further the gospel of the kingdom message and to encourage those dedicating their lives in Africa to help those in need.
The team consisted of Brother Tomas, Sister Iva from the Czech Republic, Sister Debbie from Canada. Brother Kayode and Sister Bola, from London would follow on later as well as the Ide's from Nigeria.
UGANDA
We are… going!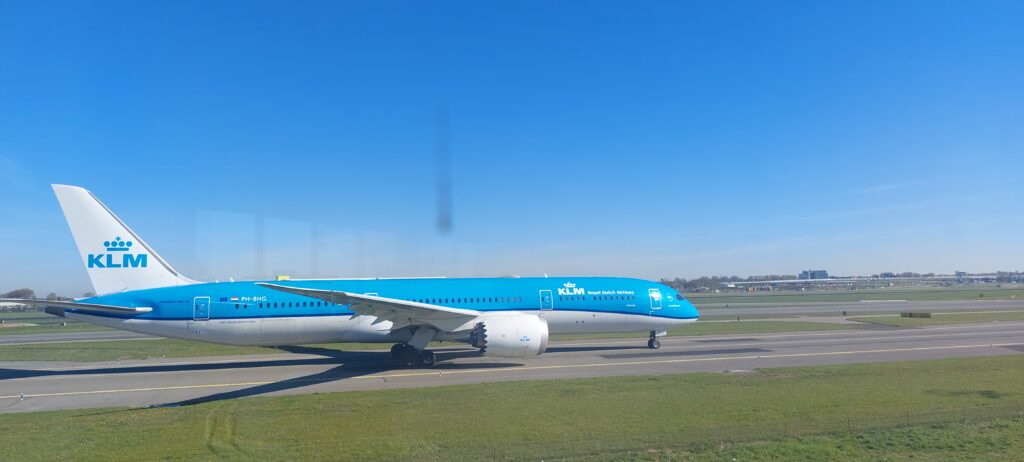 Sitting on a plane, the journey begins. Actually, it began way back when I started my walk with the Lord. Otherwise, I wouldn't be here today on a plane heading to Entebbe, Uganda. I mean, this one only takes us, brother Tomáš and I, to Amsterdam. But from there we'll head south towards Africa. In sort of a way it seems unbelievable to me that I am really going when two days ago we still were not sure it would be possible. My prayer remains: not me Lord, but You.
Becoming part of this trip is a testimony in itself. I have been thinking of going for several years now, but it never worked out: once I was finishing exams, next time I just got a new job, then Covid happened and I started working in schooling – which means I can't just take leave at any time I please. And our school breaks don't really match the ones in Africa. When I heard about this particular coming trip I honestly didn't even think it would be a possibility for me – the dates were set exactly a week after our two-week spring break. So I thought there was no way I could travel at that time. But the reactions I received from my colleagues as well as my boss were surprisingly very positive. So here I am.
Excited and well-read traveller
By God's grace I am able to relate to Verne's "type of perfect traveller, whose appetite can be controlled at will, whose limbs can adapt themselves equally to a bed whether it be long or short, who can sleep at any hour of the day, and awake at any hour of the night." (Verne, Jules: Five weeks in a balloon; George Routledge and Sons, London and New York, 1876, p. 11) and so I was able to easily make up for the almost nonexistent sleep of the previous night on the plane. I woke up just in time to see the breathtaking view of snowy alps with bluey frozen lakes – and to eat my food. Sleeping I missed crossing the line of Mediterranean and Sahara, but it may as well have been cloudy anyway. Sahara Desert, full of rocks and not really what I imagined, a glassy lake here and there till we reached the river Nile. Places I only ever read about. Oh, and the great lake Victoria.
When we reached Kigali (that means we landed on the southern hemisphere!) it was late and dark already. But even by the position of the lights in the city you could tell we are not in Europe or anywhere I know.
Final destination: First impressions, Mission house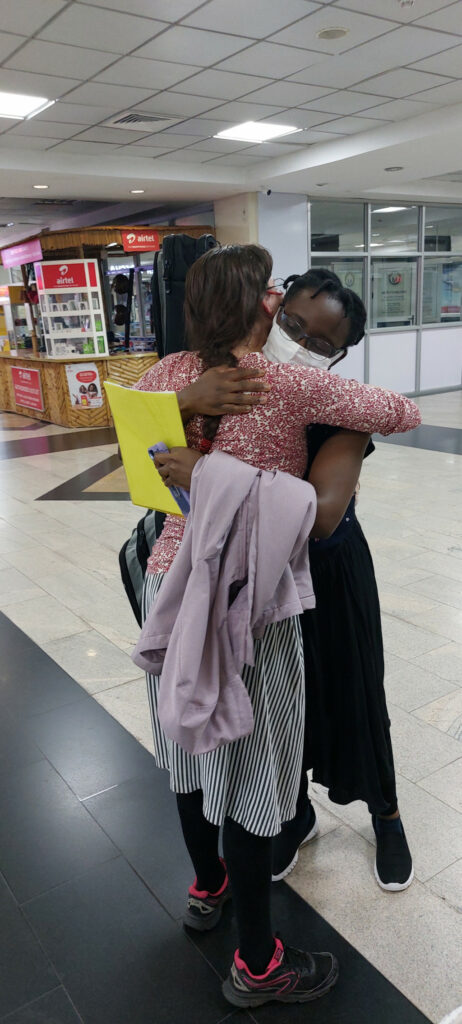 In Entebbe we were happy to meet the third member of our reduced team – Debbie flying from Canada. Thankfully we were able to gather all our baggage and finally met brother Godfrey, who came to pick us up and who I never met before. I wouldn't say it was hot (well it was around midnight) but wearing a sweater and a coat didn't really help. Seeing armed men in uniforms everywhere didn't seem very reassuring to me but from brother Godfrey's and brother Tomáš' behavior I concluded it was a standard here.
At the mission house we were welcomed by sister Concy and three of the older children though it was very late at night. Daphine, Aaron and Melvin (I think) – my hope was I can remember his name as he broke his arm recently and still has a cast. A welcome meal was indisputable, but we were very glad to get to bed, especially Debbie whose journey from Canada took even a day more than ours.
The new mission house compound where brother Godfrey and sister Concy have moved to a few months ago is circled by a tall wall topped with electrical wire (for security – very common in Africa). It consists of the house of course, a paved front yard with some grass and small palm trees on the side and a narrow space behind the house with a simple washroom and space for outside cooking. Massive black gate opens only when needed. The upper floor where our bedrooms are, is secured by iron bars.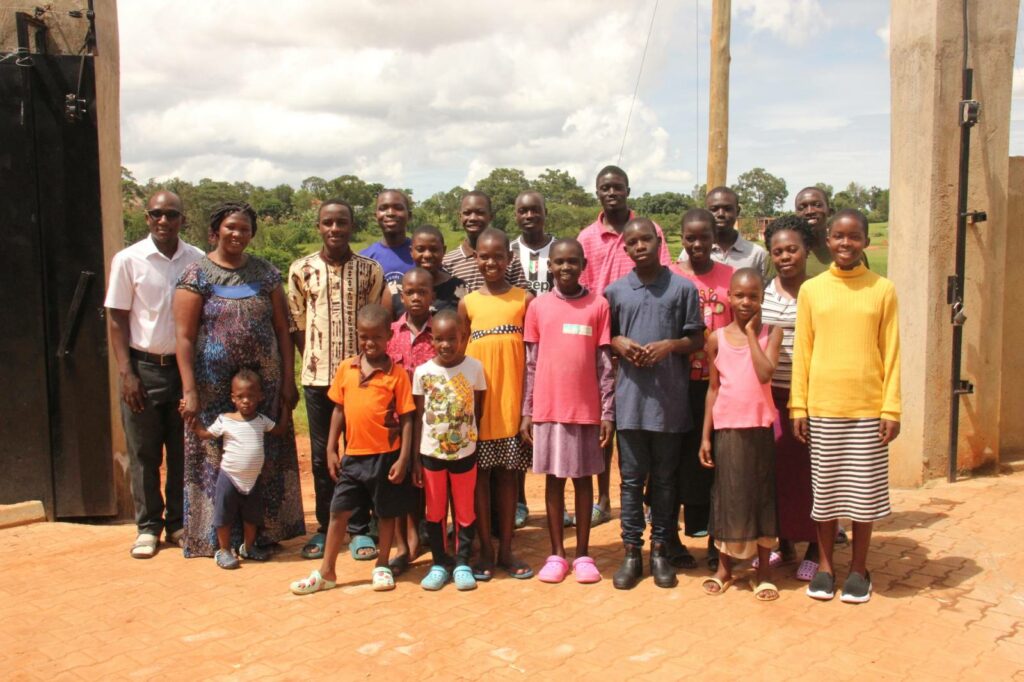 Children's camp: except the "children" have mostly become young people by now
The daily harmonogram, (schedule), for the next days was to be quite packed – morning devotion from 6 to approximately 8, breakfast and morning chores, meeting at 10 or so, lunch, meeting, chores and dinner. With some exceptions, of course.
Apart from morning devotion, morning and afternoon meetings there are always many chores to do: cooking, cooking special meals for us, dishes, washing clothes, cleaning the floor, everybody knows what to do and everybody is busy. I like to help but sometimes I feel more like being in the way than really helping. Forgive me, girls, but spending time with you is one of the things I really enjoy. And yes, I actually wash dishes at home, and I am able to hand-wash my clothes. I also cook, even though frying Irish (potatoes) on the outside cooker I may look like I have no idea what I am doing. I find that there is much prejudice and false ideas even among brethren about each other's country, culture and customs. Thank you for letting me peel ground nuts, wash dishes, hang laundry and sing with you. Yes, that is one more characteristic of the mission house: there is always somebody singing, readily joined by other beautiful voices.
Day 1: take it easy, clothes and gifts, is this what they call a culture shock?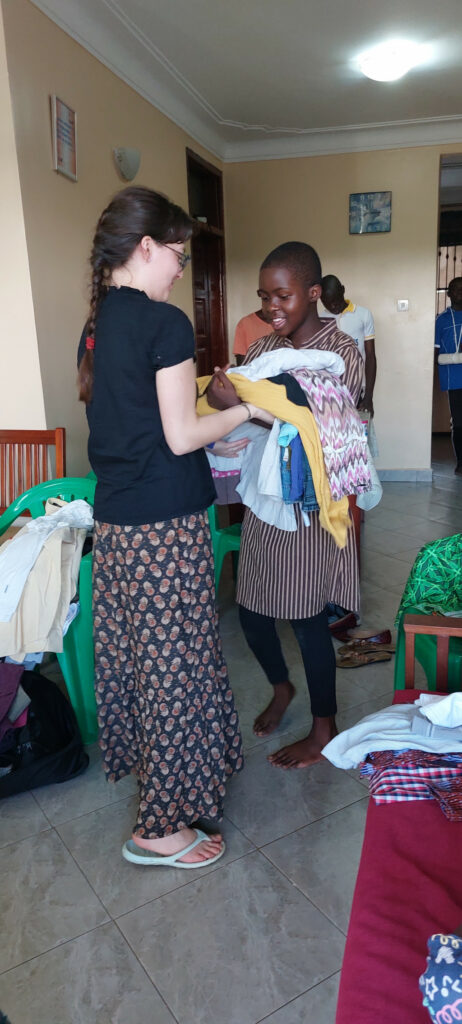 Everybody was so gracious to us as to let us rest on the first day. In the end more than a full suitcase of clothes were donated (Thank you, donors!) and distributed here. Sister Concy has all the children's sizes in her eye and did a good and quick job with redistributing the clothes to everybody. On the top, we were able to bring some sports equipment and musical instruments (which we would have much fun with later on, but that we didn't know yet).
When I got down on the first morning, the first thing I saw was a boy greeting me good morning while kneeling down. I must say I was surprised, shocked, and a mixture of whole other feelings and questions surged up in me that I am not even able to verbalize. I got up late due to the time difference (I just forgot to set the alarm an hour earlier) and so I joined the morning devotion later. To my great surprise, all of them came to greet me and kneel after closing the devotion with "sharing grace". By God's grace we were able to come to an understanding that as brothers and sisters in Christ, there's no need for such a formality. I understand that is part of their culture, but in my opinion, it doesn't really help to build this kind of barrier when you have just ten days to get closer to somebody. That is why we also asked to eat all together, at least some of the meals. This way we ended up with three huge and wonderful meals a day, sometimes more than what we could eat. Thank you Daphine, sister Concy, sister Donna and sister Frida for all the excellent care you took of our bellies.
Precious sisters and brothers in Christ
It took me exactly six days to master all the children's names (and there's only 15 children in the house) but by God's grace I am now not only able to tell one from each other but to know their personalities and stories a little.
Looking at these children a scripture I read last week really stands out to me: "But now thus saith the LORD that created thee, O Jacob, and he that formed thee, O Israel, fear not for I have redeemed thee, I have called thee by thy name, thou art mine." (Isaiah 43:1)
If it was only for the fellowship that we had all together, it has been a sweet and blessed time of sharing, prayer and praising God. Hearing teachings on things I'd heard so many times before was seasoned by the children's practical questions which revived the topics and showed a great hunger for God, for his Word and more understanding – always with the practical application to their (for us not so very usual) lives.
Should a 12-year-old girl need to ask a question: What should I do if my mother tells me to steal, or she will turn me away? This simple question just stays with me. No. But as His Word says: "…but God is faithful, who will not suffer you to be tempted above that ye are able but will with the temptation also make a way to escape, that ye may be able to bear it." (1 Cor 10:13) Suddenly the scripture I've heard or told myself a hundred times carries another dimension. My temptation was never to sin or give up my livelihood, even if meager. Their walk with God stands on faith and is very real. There is no space for our religious talk without having to really give up anything. Maybe watching TV. Maybe some time. But to have to choose between Christ and a place to stay?
I am so thankful to see brother Godfrey's and sister Concy's heart for those children and their work with them. I believe that seeing the fruit of their care of love and sacrifice bring joy to them and compensates all their hard work, time and dedication, availability in a time of need to solve immediate problems concerning not only spiritual life but also school matters or health issues. Their interest doesn't end there, they expect to reach out to the children's families, keeping in touch on a regular basis and encouraging the mothers to visit their children as well.
I can't put in words what it is like to hear their stories, to hear about what they used to be and see with my own eyes the difference Christ has made in their life. One of the boys used to be part of a gang stealing and robbing people on the streets. What a powerful testimony to see his kind and gentle behavior towards others. Hearing his testimony, compared to the condition of other members of the gang, which some of them are shot dead by now… makes me see it really makes a difference.
Their knowledge of Bible scriptures is amazing, and they don't even have each their own copy. Yes, they share the bibles, two or even three. I felt a little ashamed with my KJV Bible and a bible app on my phone, not mentioning my four more bibles I left at home. And I can't say I would have made so much use of them.
What I expected a mission trip to Africa to be and what was proved wrong (judged on my visit to Uganda)
I have been fed with missionary stories and experiences since I can remember and to my surprise, things were actually not as complicated as I expected according to what I had heard. Although hearing that may have prepared me to be excited about anything that exceeded my expectations.
Food – My big favorite are fruits. Seeing, actually for the first time in my life, and tasting some of the fruits I'd only ever read about in books, is one of the unnecessary but sweet bonuses the Lord had for me on this trip.
Weather – Shouldn't Africa be hot? Especially once you almost reach the Equator. Well, 20-25°C ,(around 77 degrees F) sounds perfect to me (and I am not a person who likes hot weather). I don't know why but I also expected all of Africa to be craving for water – and here in Uganda it proved not true. The surroundings are so green, full of grass, blossoming flowers, bushes and trees. Except for the roads which are red soil.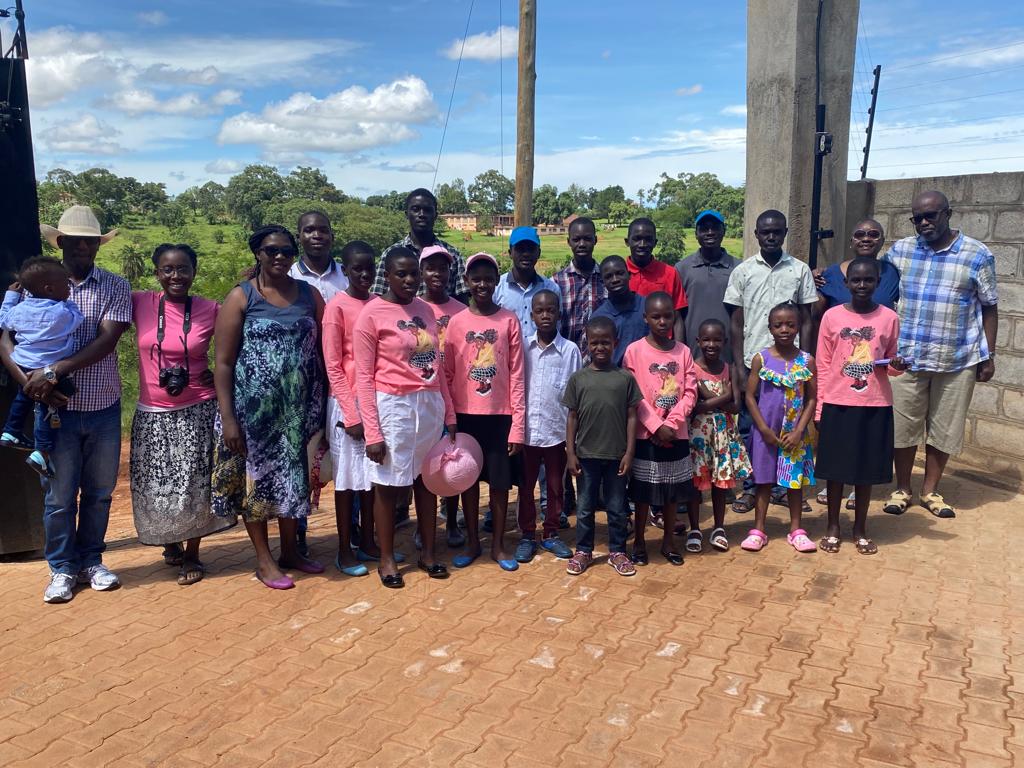 Insects, snakes and stuff like that – To say the truth we didn't spend much time out of the well-kept compound except for some time in town, but even so, I have encountered only one cockroach which was killed for me (thanks Debbie) and one other big insect which I think was a praying mantis (but I was told that one was poisonous so maybe it was not). To my great surprise I saw only one mosquito during my whole stay (but I kept applying the anti-mosquito spray, as it is said: better safe than sorry) but we met two people suffering from malaria. I get it now that it is not such a big deal here.
All in all, my stay in Uganda surprised me in many ways and I have to say – mostly positively. It is true though that it is a different world. A completely different world from the one that I am experiencing daily in my life. But that doesn't mean that in the end people wouldn't have the same issues and problems and it all comes back to the only truth – that we need Jesus.
Let's make… some music. Joyful noise may be more accurate. Hopefully it will please the Lord in some near future
As I said before, we were able to add some musical instruments to the house – most of the children are able to play the keyboard bought previously to some extent. We brought a guitar, a ukulele, several flutes and harmonicas in particular. Musical instruments sparked a wave of interest resulting in lots of chaotic noise as everybody fervently tried to play and learn anything in the same room, at the same time. Hopefully we were able to pass on some basics to different ones over the next days. They are very excited, very quick to learn and eager to help each other learn as well. I am sure now that they will make good use of them.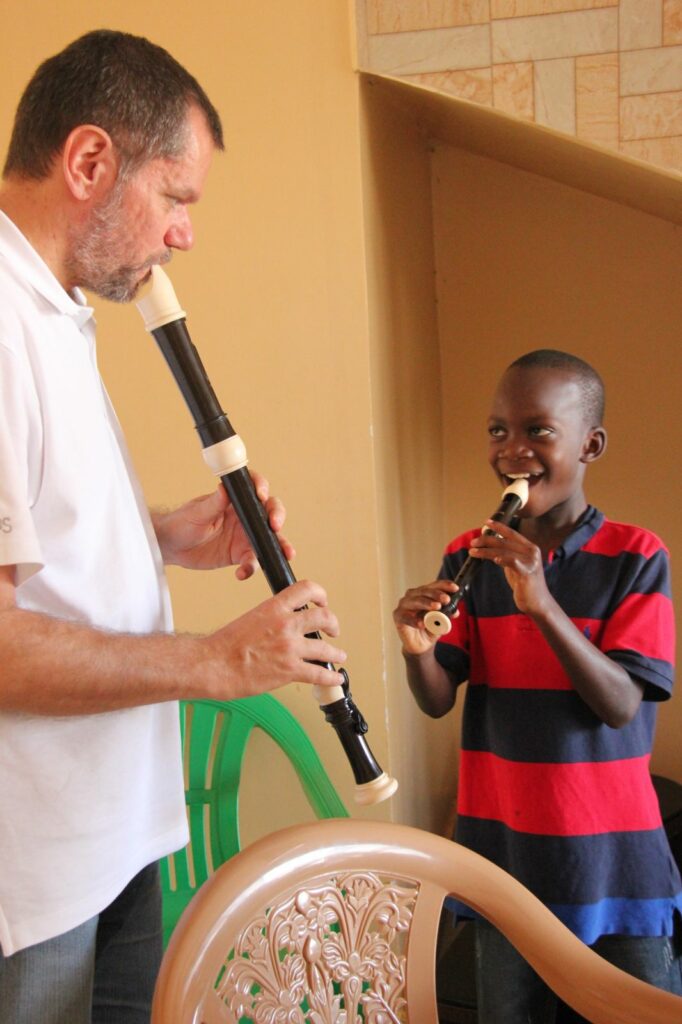 ETHIOPIA
Ethiopia is… different. Different kind of different. Brown. It may also be that we are in the city. No boda bodas (a very popular means of transport – motorcycles – in Uganda) here, but the traffic is not less crazy. Thankfully we had an experienced driver to take us safely to wherever we needed. Thank you, Brother Fikre! Anyway, we didn't come to compare local traffic to that one in Kampala. I don't really know what to expect but hope to be as much a contribution to blessing as I, by God's grace, can be. I am sure this will be even more of a challenge than sharing in Uganda.
The visit to Ethiopia is short: Thursday through Monday. As for our purpose, or should I say our plans, for the few days spent here in Ethiopia – meeting with mothers of the children in the program, meeting with born again mothers, meeting with staff, meeting with children 12 and up, regular Sunday meeting, meeting with children and their mothers (subject to change without notice).
Meetings went well as far as I was able to understand (we thank our faithful translator – Brother Jemal) although with only one speaker and two meetings a day it must have been quite wearing out. Well, Debbie and I kept fervently praying to God to bless and renew the strengths of our brother Tomáš.
Even the local experience for us is different. In Uganda almost everybody speaks English apart from many other languages. I say English but although I think I've heard quite a few different kinds of English throughout my short life, in Uganda, I found I was about to try to "hack" yet another one.
The language spoken commonly in Addis Ababa is Amharic and it is nothing like anything I know. Even the simple word of "thank you" gives me a hard time for not less than two days. See for yourself: "amasagnalo". On top of that, Latin letters are not used so any sign by the road is just an unreadable cipher to us. This makes it harder to get closer and to relate even to the brethren.
By God's grace we had an opportunity to hear at least some of the 75 children speak on their experience with RBW. To our surprise and delight, that was when we saw that there are people who can express themselves in English. It was amazing to see these lively children/young people who in their original condition would not be able to go to school properly (and they would probably spend their days begging on the streets as we have seen many other children do) – now able to speak in front of people, one of them heading towards university studies. Although the work here in Ethiopia is very different, I am again reassured, and I have seen it with my own eyes: it makes a difference.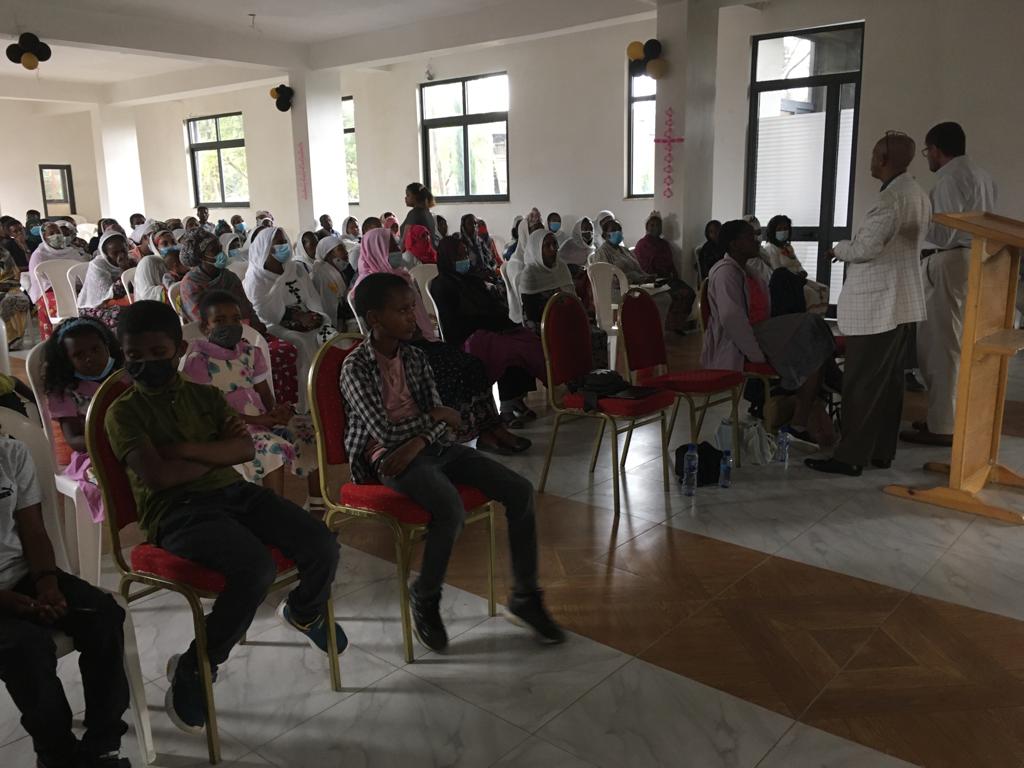 It seems I will have to come back
As someone said to me once (and I am not sure if I can phrase it correctly): A mission trip is as much blessing to you as to them. Or even more. I find it is so true. The people I've met, the experience I've had, precious time in fellowship with brethren and the intense time spent in searching God about this trip – all that is something that I cannot put in words properly and which I can't really pass on to you as readers of this short report. I've tried my best to present at least partly whatever we'd experienced but believe me there is much, much, much more behind that.
Parting is always hard for me and having to leave I had a thought for a moment: If I did not come, I wouldn't have this problem now. But I did come, (and I am so glad I did), and now those people are forever part of my life experience as we have shared the blessings of God. Yes, I think this was my first, but not the last time in Africa, unless God says otherwise. God Bless You, Sister Iva.